Brush Hill Tours will provide the following tour packages to Neutrino 2014 participants. Representatives from Brush Hill Tours will be at the Conference to answer questions and facilitate signups. Reservations and payments may be made via the links provided below.
TOUR 1: THE TOTAL EXPERIENCE – CAMBRIDGE, LEXINGTON, CONCORD & BOSTON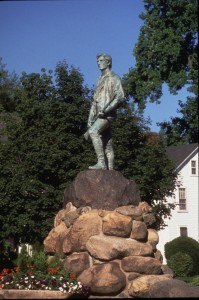 Depart from Boston and travel past the prestigious universities, MIT and HARVARD located just across the river in Cambridge.  We will view Cambridge Common, where Washington took command of the Continental Army; drive along "Tory Row," past the home of Henry Wadsworth Longfellow.  Traveling through the historic countryside towns of Belmont and Lexington, we then follow the route of Paul Revere, as he warned "the British are coming."  Stand on Lexington Green (20 minutes.), where Captain Jonathan Parker and 77 minutemen stood their ground against 700 of England's finest regulars.  In Concord, journey past the homes of Hawthorne, Alcott and Emerson as we make our way to the old North Bridge (25 minutes.), "where the embattled farmers stood and fired the shot heard 'round the world'".  As we return to Boston, we will make a stop at the historic popular Faneuil Hall/ Quincy Marketplace for lunch on your own and time to shop.  In the afternoon reboard your motorcoach  for a fully narrated overview of Boston, we'll make a 20 minute stop at the historic Charlestown Navy Yard to view the U.S.S. Constitution, at the end of the tour you will have some free time at the popular Faneuil Hall/ Quincy Marketplace before returning to your hotel.
COST: $62.00 per person
Ride with us across the Cape Cod Canal and wonder at the world of sand dunes and salty beaches.  In Hyannisport, we'll visit a memorial to President John F. Kennedy and join a lectured sightseeing harbor cruise which offers the best possible view of the Kennedy Compound.  Lunch on your own will be at the Lobster Boat Restaurant
After lunch we travel along the old "King's Highway" through picturesque towns unique to Cape Cod.  Visit one of the area's seaside villages for shopping, strolling and sightseeing.
COST: $60.00 per person
BEANTOWN TROLLEY TOUR
See Beacon Hill, Newbury Street, Faneuil Hall Marketplace, Charlestown, Bunker Hill Pavilion, and more. Choose from any of our 16 stops with over 100 points of interest. Discover Boston on the Red Beantown Trolley! Once aboard, enjoy a two hour narrated tour or hop on and off at all the stops along the route. The ticket includes unlimited use. Sit back and relax for an insider's view of Boston on our San Francisco style trolley cars. Beantown Trolley is the only trolley with direct service to the Museum of Fine Arts and the Seaport District
COST: $35.00 PER PERSON
For questions or further information please contact Brush Hill Tours/Gray Line of Boston/Beantown Trolley. Representatives from Brush Hill Tours are present at the Neutrino 2014 Registration area. They may be contacted at 800-343-1328 (toll free), 781-986-6100 (local)  or by e-mail at info@brushhilltours.com. Ask for John Thomas.
N.B. Due to few early reservations, tour packages previously posted are not available.